The World Social Forum (WSF) took place in Belem (state of Para, Brazil) from January 27 to February 1, 2009, to deliberate on hundreds of self-organized activities, proposed by civil society organizations from the world over.
To view the overall report on WSF Belem Click here
PWESCR Events at the WSF, Belem, January 2009
PWESCR, in collaboration with a host of other organisations working on women and livelihoods as part of the Gender Equality Coalition of the Human Dignity and Human rights Caucus, organised a series of events recently at the World Social Forum (WSF), January 2009.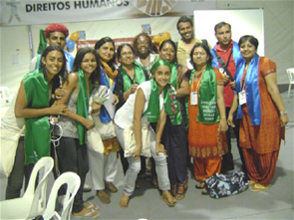 A. Women's Right to Livelihoods: Addressing Development and Displacement
PWESCR, in collaboration with Habitat International Coalition (HIC), organised this lively event, with input on diverse issues of livelihoods and the ways in which development and displacement have violated women's rights to livelihoods. A broad picture of women and the right to livelihoods emerged from the discussion, closely connected to the right to a dignified life. Speakers captured the essence in different ways, whether in terms of self-sufficiency, the means of production or life itself, but Lanh (Vietnam) captured it powerfully in her opening, "Livelihood is every human right. This concept is in our heart, it is a culture, it is land and it is the environment. It is the basics of our human existence."

What is clear is that Livelihoods for Women is not a new issue, it is about issues women have been mobilising around for decades - land, water, forests, indigenous peoples' rights, climate change, displacement etc. However there is a pressing need for focus on livelihoods as a right in the context of the deepening crisis of capitalism and its dramatic impact on livelihood related rights for women around the world. Viewing the different aspects as part of a greater issue and addressing them in a more holistic way has tremendous power. The elements speakers focused on can be grouped into three areas:
(1) The right to food, agriculture, food security and food sovereignty
(2) Natural resources: Land, Water and Forests
(3) Education, skills, work, markets and credits
Issues concerning feminization of poverty, trade liberalisation, MNCs and migration cut across all three areas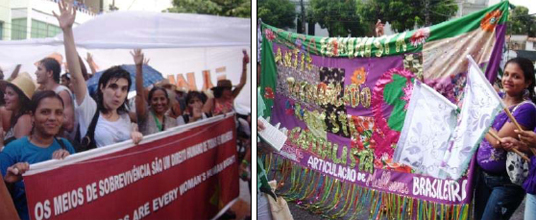 B. Women's Right to Livelihoods: Building a Collective Agenda
This event provided a space for participants to exchange and dialogue on issues core to women and livelihoods and to develop a collective strategy to work at various levels to strengthen efforts for change. The proposals put forward will drive the new Global Network on Women and the Right to Livelihoods.

Diverse strategies were discussed, exploring national, regional and international possibilities. All groups called for more and better networks at all levels for organizing, capacity building, strategizing and mobilization - as critical to any change. The message is loud and clear: we need to unite, to strengthen our own capacities, to refine joint strategies and to engage with political structures to press governments to fulfill their responsibilities to their people rather than fill their pockets with Multi-National Corporations (MNCs). This must happen collectively at the national and global level, targeting states, relevant UN bodies and global financial structures (WTO and World Bank). We need to develop and advocate for sustainable alternative development models, with women at the centre, and engage with United Nations structures to better represent women's struggles for livelihoods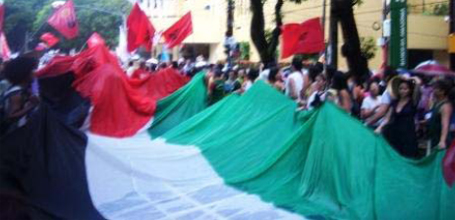 C. Launch of the Global Network on Women and the Right to Livelihoods
Finally, the Global Network on Women and the Right to Livelihoods was launched on the last evening of the Forum. This was an exciting moment, and the culmination of many months of discussion and engagement by an increasing number of individuals and organisations. However this took place in awareness of the reality of the depth of the struggles that threaten women's livelihoods around the world. So it was also a grounding moment, which recognised the need for solidarity and joint strategies, working from the local to the global level and making women's right to livelihoods visible and alive within the debates and action on the current global crises.

For full report, please See Here

LATEST NEW UPDATES ON WSF 2009
Members of the Gender Equality Coalition of the Human Dignity and Human rights Caucus recently held an evaluation meeting of WSF – See Here for what they thought.Email us your thoughts!
Preperations of WSF 2009
In preparation for the forum, PWESCR (India) and Equal in Rights (Netherlands) have taken the responsibility within the Caucus of Human Dignity and Human Rights to mobilize a sub-group focused on Women's Equality Struggles and Human Rights. So far, more than 75 organizations and individuals have come together to share their ideas and plans for the WSF.

PWESCR organized Four Skype conference with national and international organizations and individuals working on Human Dignity and Human Right Caucus to share their plans and ideas. Given below are the minutes of Skype chat meetings.

WHAT IS WORLD SOCIAL FORUM ?
The World Social Forum is an open space where social movements, networks, NGOs and other civil society organizations opposed to neo-liberalism and a world dominated by capital or by any form of imperialism come together to pursue their thinking, to exchange ideas, to formulate proposals, share their experiences and network for effective action.

The first three meetings, as well as the fifth, were held in Alegre (state of Rio Grande do Sul, Brazil), in 2001, 2002, 2003 and 2005.The global event was organized for the first time outside Brazil, in India, in 2004.

The WSF was decentralized in 2006 and was held in three countries in different continents: Mali (Africa), Pakistan (Asia) and Venezuela (Americas). It returned to a centralized format in 2007 and was held in Kenya (Africa).
What are Human Dignity and Human Rights Caucus about ?
The Caucus is a group of human rights and development-related organizations that, over the past few World Social Forums, have come together to contribute to the coordination and visibility of human rights activities. More than 80 organizations were involved in the Caucus in the WSF in Nairobi 2007. Detailed information on previous activities of the Caucus, as well as about the organizations involved in Nairobi WSF 2007 and in the 2008 Global Action Day, is available on: http://hdhrc.over-blog.com/

For the 2009 WSF, the Caucus is focusing on facilitating alliance building, stimulating new linkages among diverse actors and hosting a human rights space as well as advancing core Human Rights themes. The Caucus will not organize any specific activity on its own. It will concentrate on the following themes:
Human rights and struggles for social and economic justice

Human rights and struggles for women's equality

Human rights and struggles over habitat, land and environment

Human rights, mobility and citizenship gap

Human rights and conflict, militarization and culture of impunity

Human rights and faith and cultural diversity
Core organizing group are – HIC, ICCO, FIDH, FIAN, LWF, Equal in rights, PWESCR.

Organizations

AWEPON (African Women's Economic Policy
WDACA (Women Development Initiative)
Network), Uganda
CENSURED (Centre for Human Rights, Democratization and
GROOTS Kenya
Development), Cameroon
Ebony Youth and Orphans Support Initiative, Kenya
Network Women and Youth in the Rural Population in Haiti
Tamil Nadu Women's Forum, India
Ministry of Education, Vanuatu, Vanuatu
Interagency Gender Forum Afghanistan, Afghanistan
International Museum of Women, Mongolia
Sahayatri, Nepal
Iranian women's Network Association, USA
FEDO Nepal,
Federation of Women Lawyers Kenya, Kenya
Feminist Dalit organisation, Nepal
YWALM (Women African Leaders Movement), Zimbabwe
WACOL (Women Aid Collective), Nigeria
The Women's Shadow Parliament, Kenya
Colectivo Feminista Mujeres Universitarias, Honduras
JC International English School, Nepal
Social Development Foundation, India
Rede Feminista de Saude, Brazil
ANHAD, India
Sathi Partership for All, India
BRAC, Bangladesh
Fundo Direitos Humanos, Brazil
Police Training School, Cameroon
National Organization for Sustainable Development, India
SPERI (Social Policy Ecology Research Institute), Vietnam
Bangladesh Environmental Institutional Strengthening Project (BEISP), Bangladesh
Movimiento Manuela Ramos, Peru
Entrepreneurship Development Institute of India, India
ECOT, Thailand
American Council for Voluntary International Action, USA
CREA, India
Shevolution, United Kingdom
PHREB (Promoting Human Rights and Education in Bangladesh), Bangladesh
Inter American Commission of Women, Organization of American State, USA
Rozaria Memorial Trust , United Kingdom
Center for Rebuilding Sustainable Communities after Disasters, Boston
Regional Association for Engineer Women, Peru
The Sustainable Development Foundation, Thailand
Gender Justice & Diversity Section, Bangladesh
CEPIA, Brazil
Latin American and Caribbean Women's Health Network (LACWHN), Chile

Individuals

Nandita Shah, India
Puja Kapai, Hongkong
Anita Mathew, India
Damai Pakpahan, Indonesia
Marilia, Brazil
Kritinne Sanz, ,United Kingdon
Marlene, ,Brazil
Millena, Brazil
Soma KP, India
Poonam Kathuria, India
Mamata Dash, ,India
Dr. Parag Mankeekar, India
Larry Roeder
Vernie Barnes
BELEM EXPANDED: ENLARGING PARTICIPATION IN THE WSF 2009

The WSF2009 Belem Expanded will open a new way of participation for movements, entities and civil society organizations which may not be able to attend the meet, but at the same time view themselves as active participants in the WSF process. They should try to be a part of the WSF by participating in Belem Expanded—organize online activities, events in their countries and link them to events in Belem using internet tools (such as text and audio chats or video conferences), or using other communication technologies (such as radio transmissions, letters and others).

USEFUL LINKS

Some brief information about the WSF 2009 is available on the Brazilian World Social Forum website
http://www.fsm2009amazonia.org.br
along with details about past WSFs.
WSF Process – Calendar of Mobilisations towards 2009
WSF 2009: Amazonia calls us to renew our commitment to another possible world

Human Dignity and Human Rights Caucus Blog- Promoting Human Rights in the WSF
http://hdhrc.over-blog.com

A D-group (e-discussion group) was formed for sharing information and ideas even after the WSF. This D-group is a discussion and planning space for organizations and people working on gender equity and women's rights, especially in relation to the WSF. Those interested in discussing in these topics, as well as individuals and organizations planning for the WSF, can join the D-group. Link to the website for subscription:

Home | About Us | Resources | Donation | Contact Us | Site map
Copyright 2008, All Rights Reserved. PWESCR.